Wir sind endlich auf Madeira angekommen und haben die ersten 10 Tage hinter uns.
Die letzten Erledigungen in den Niederlanden haben gut geklappt. Mit tatkräftiger Unterstützung haben wir in den letzten Tagen noch viel geschafft und konnten unsere Mietwohnung gut übergeben. Die letzte Nacht konnten wir sogar noch im Gäste Appartement von unserem Vermieter übernachten, sodass es am Abflugtag nicht so stressig wurde (Danke Heinz).
Janine's Eltern haben uns zum Flughafen nach Düsseldorf gebracht, wo es eine Verabschiedung mit Masken gab.
Beim Abflug im Flughafen sowie im Flugzeug verlief alles den Umständen entsprechend gut. Der Mindestabstand wurde weitestgehend eingehalten, im Flughafen und im Fluzeug bestand Maskenpflicht, grösseres Handgepäck musste beim Einchecken mit abgegeben werden.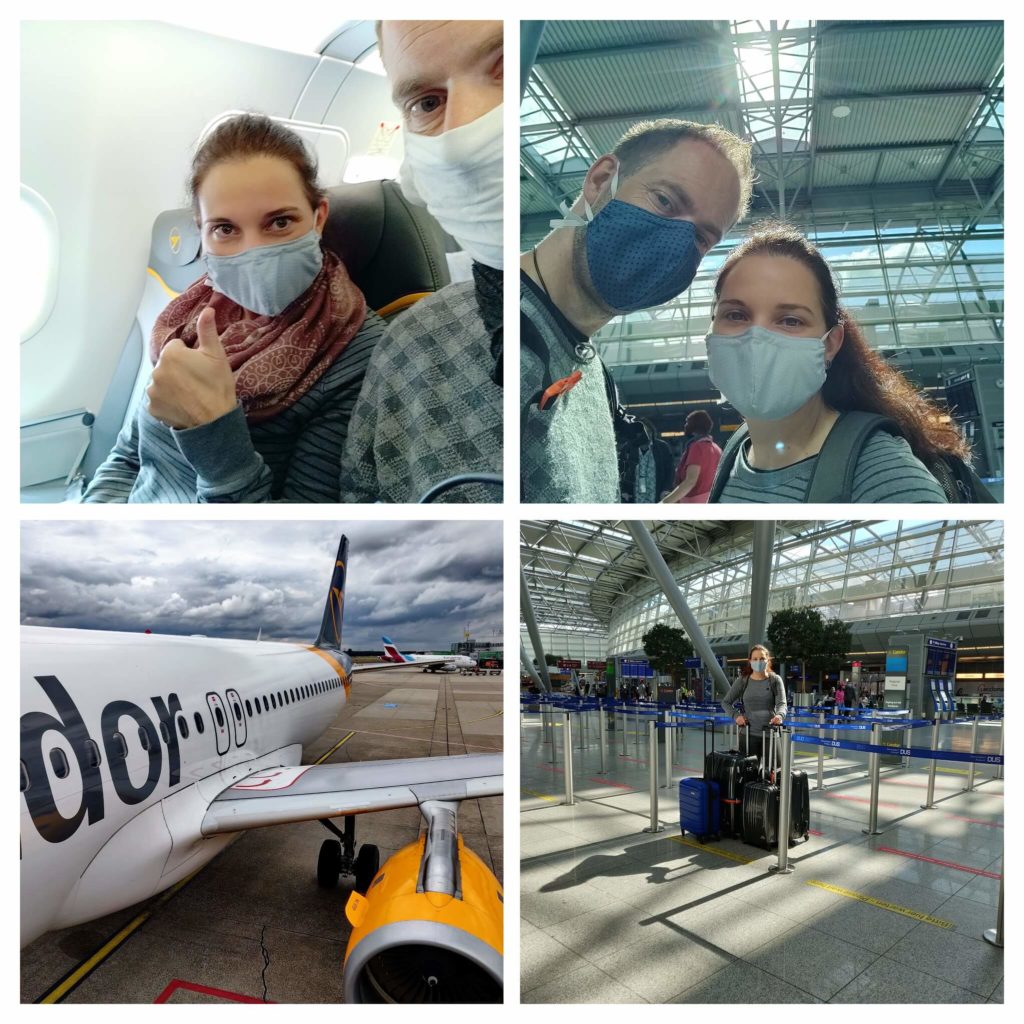 Das Flugzeug war zu 80% ausgelastet und es gab einige besondere Massnahmen, z.B beim Ein- und Aussteigen, keine Warteschlange vor dem WC, das "Public Health Passenger Locator Form" (ein Formular mit perönlichen Angaben, sodass im Falle einer Erkrankung eine Rückverfolgung und Ortung möglich ist).
Wir hatten uns schon im Voraus regelmässig online informiert und bereits die "Madeira Safe to Discover"-App installiert und ausgefüllt. Dies ermöglichte eine einfachere und schnellere Einreise am Flughafen Madeira.
Nach der Landung auf Madeira erwartete uns ein herzlicher und warmer Empfang. Von einem Empfangskomitee wurde jeder mit einer Blume, einer Banane, einer kleinen Flasche Madeira-Wein und Wasser begrüsst.
Man wurde einzeln entlang einer Wärmebildkamera für die Temperaturmessung geleitet. Da wir bereits die o.g. Vorkehrungen vor dem Flug getroffen hatten, wurden wir von freundlichen Mitarbeitern, deutlichen Pfeilen auf dem Boden und entsprechenden Absperrungen entlang der vorgesehenen Route zu verschiedenen Stationen für alle Passagiere geführt.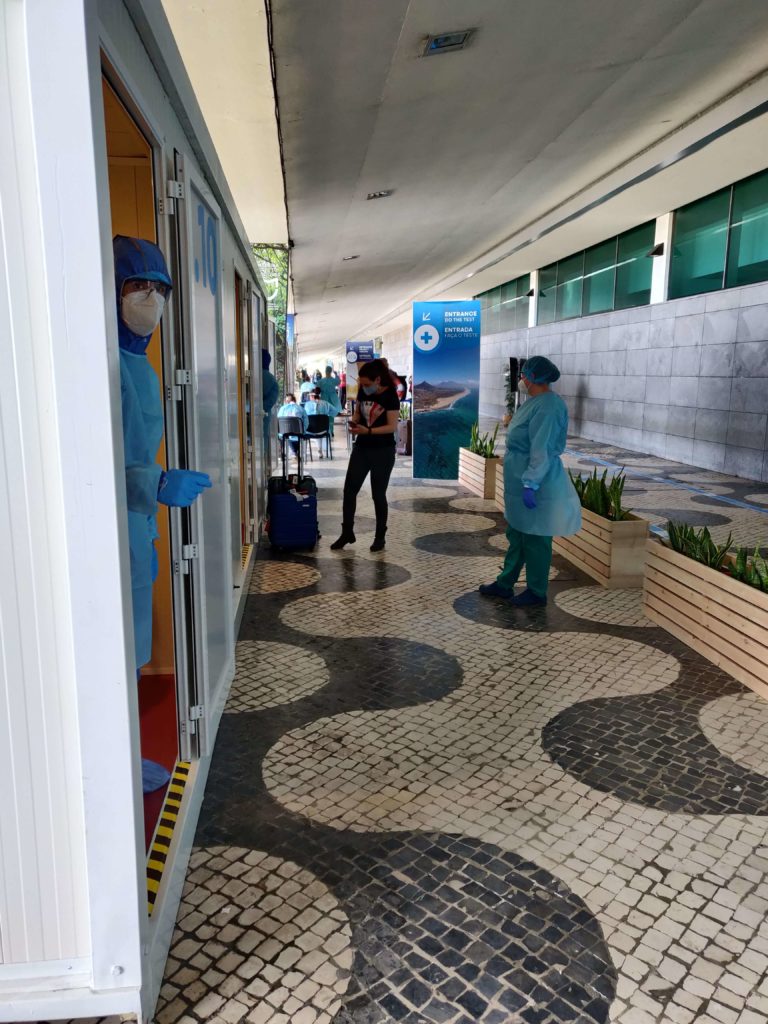 Zum "Madeira Safe to Discover" – Protokoll gehört auch ein PCR-Test für jeden ankommenden Passagier, der zwar von einer freundlichen Krankenschwester abgenommen wurde, was den Test an sich jedoch nicht angenehmer machte. Mit langen Stäbchen wurden Gewebeproben aus beiden Nasenlöchern und dem Rachen entnommen. Dies war unangenehm, aber natürlich nötig und verlief auch flott.
Da wir beide zum Glück negativ auf Corona getestet wurden, konnten wir uns dementsprechend danach frei auf der Insel bewegen.
Über die App erhalten wir täglich eine Nachfrage, ob sich unser Gesundheitszustand seit der letzten Benachrichtigung verändert hat. Dies ist schnell erledigt und wird die nächsten 14 Tage erfolgen. Allgemein haben wir ein gutes und sicheres Gefühl bei der Ankunft und der Einreise. Das System von Madeira scheint gut zu funktionieren und auch von den Bewohnern werden alle Regeln gewissenhaft befolgt.
Als wir zuletzt an Weihnachten und dem Jahreswechsel hier auf der Insel waren, hatten wir bereits ein Mietshaus gefunden und den Mietvertrag unterschrieben. Daher wussten wir schon, was uns erwartet und wir wurden auch hier herzlich empfangen. Es ist ein schönes möbliertes Haus, was vor allem für die erste Zeit sehr praktisch ist, da unsere Sachen ja noch im Container unterwegs sind. Hier werden wir sehr gut leben können, bis unser selbst gebautes Haus fertig ist.
Die Wohnung liegt mitten im Dorf und gerade auch deswegen scheint uns schon jeder hier als estrangeiros (Ausländer) zu kennen. Täglich wird gegrüsst, gehupt oder gewunken und wir haben auch sonst viel Kontakt zur Nachbarschaft. Ob ich mir für den Garten einige Geräte ausleihen muss, ob man von der Nachbarin morgens mit frischen Eiern und selbst gebackenem Kuchen überrascht wird oder ob wir vom Nachbarn mitten am Tag zu frisch gefangenem Fisch, zu lecker gegrilltem Fleisch und natürlich zu vinho (Wein) eingeladen werden, alle empfangen uns mit offenen Armen. Das ist genau das Lebensgefühl, was wir gesucht haben und jetzt in vollen Zügen geniessen.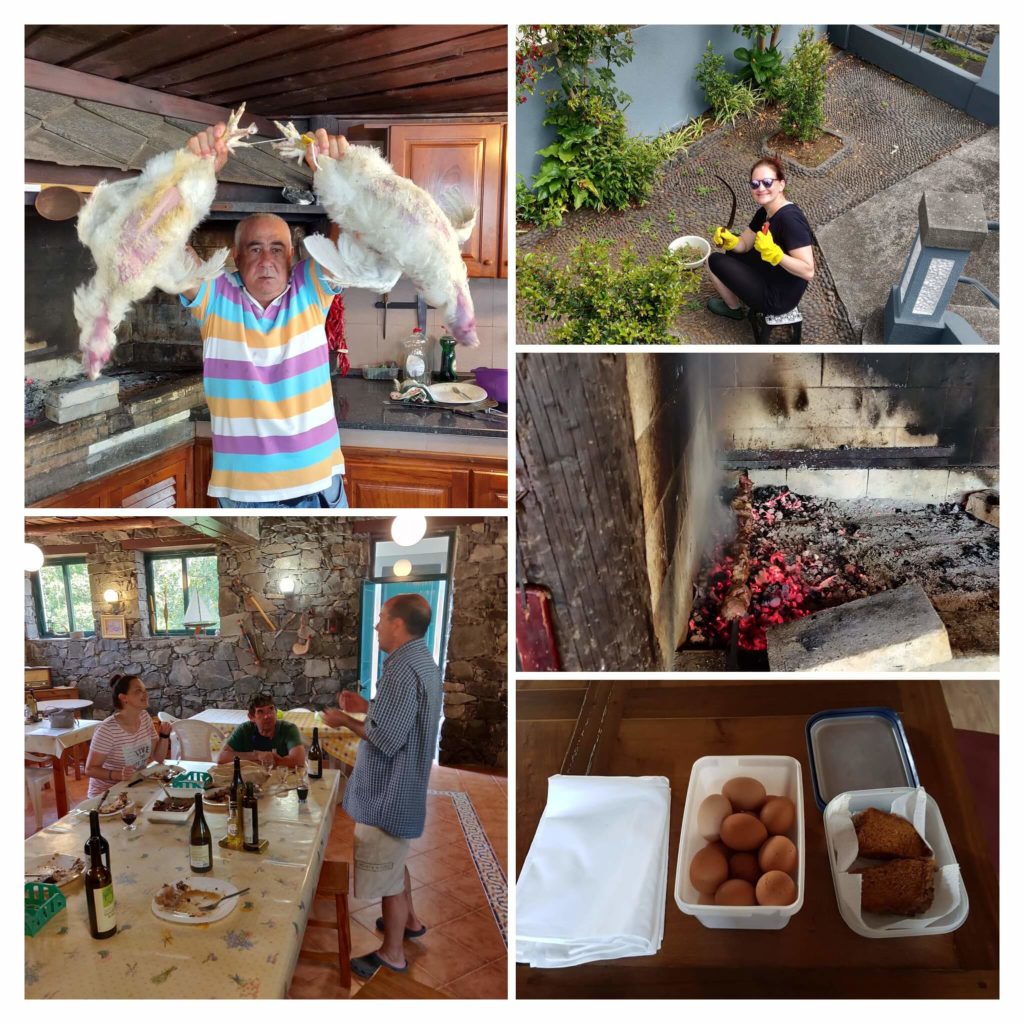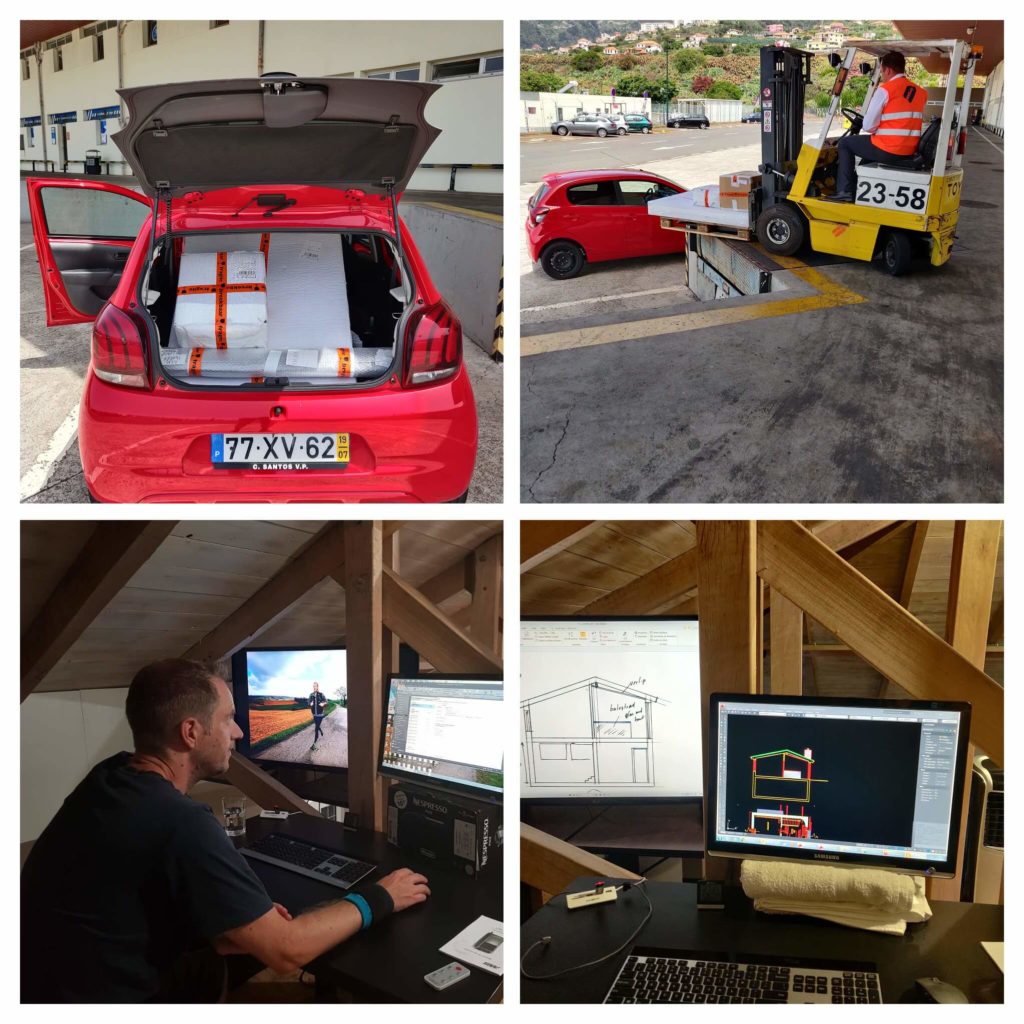 Mittlerweile ist auch die Luftfracht gut und unbeschadet am Flughafen angekommen. Alles passte sogar in den kleinen Mietwagen und konnte dementsprechend ohne Probleme mitgenommen werden.
Hierbei handelte es sich vor allem um den Computer von Bas, sodass er seinen Arbeitsplatz schon wieder einrichten konnte.
Für die ersten 1,5 Wochen hatten wir ein Mietauto reserviert, welches allerdings sehr klein war und keine ausreichende Motorkraft für die doch recht steilen Strassen und Berge hier hatte. Zum Teil mussten wir im 2. Gang auf der Autobahn fahren oder hatten den Berg hinauf eine lange Schlange hinter uns. Es musste also schnell ein eigenes Auto her. Nach gründlicher Recherche, Überlegungen, Empfehlungen und Gesprächen, haben wir uns einen VW Caddy gekauft. Mit einem kräftigen 2l-Diesel-Motor kommt dieser ohne Probleme alle Berge hoch und ist natürlich auch für die anstehende Bauphase sehr praktisch. So macht Autofahren wieder Spass!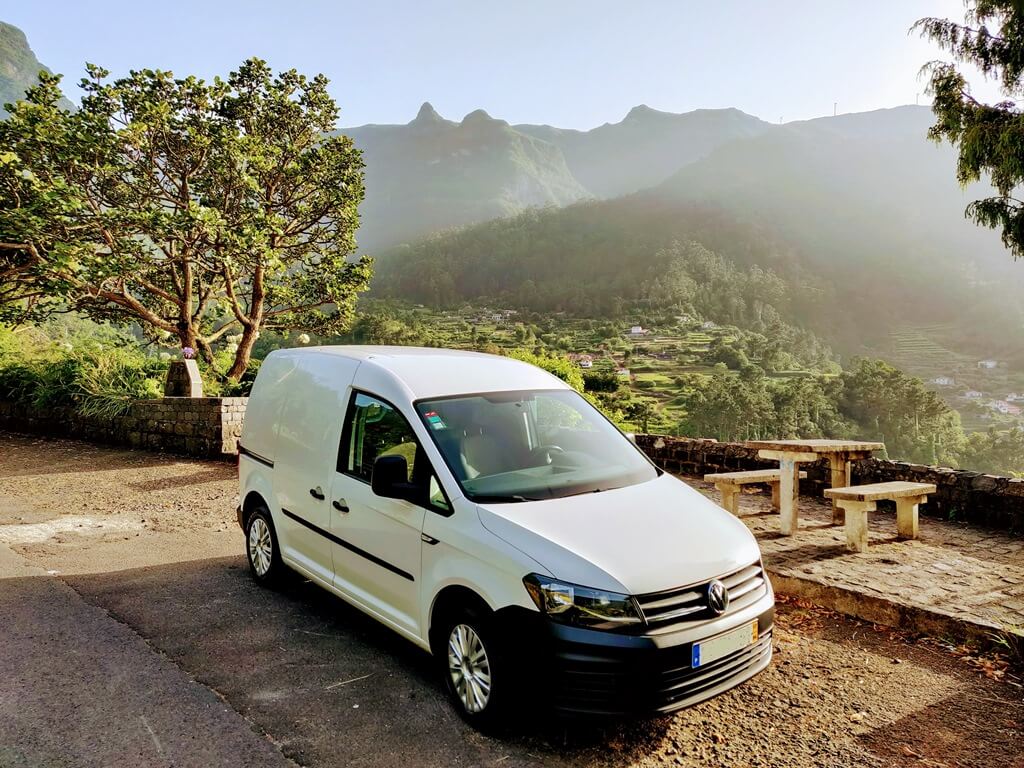 Über Kontakte hier habe ich einen Erfahrungsbericht für die Madeira-Zeitung über die Ankunft und Einreise verfasst. Seit Anfang Juli ist Madeira wieder für Touristen zugänglich, aber es sind vorerst natürlich noch sehr wenige hier. Da die Insel aber zu einem grossen Teil vom Tourismus lebt, kann Madeira auf jeden Fall positive PR gebrauchen. Hoffentlich kann ich mit meinem Bericht einen kleinen Beitrag dazu leisten. 
https://madeira-weekly.com/2020/07/09/covid-the-arrival-procedure-at-the-airport/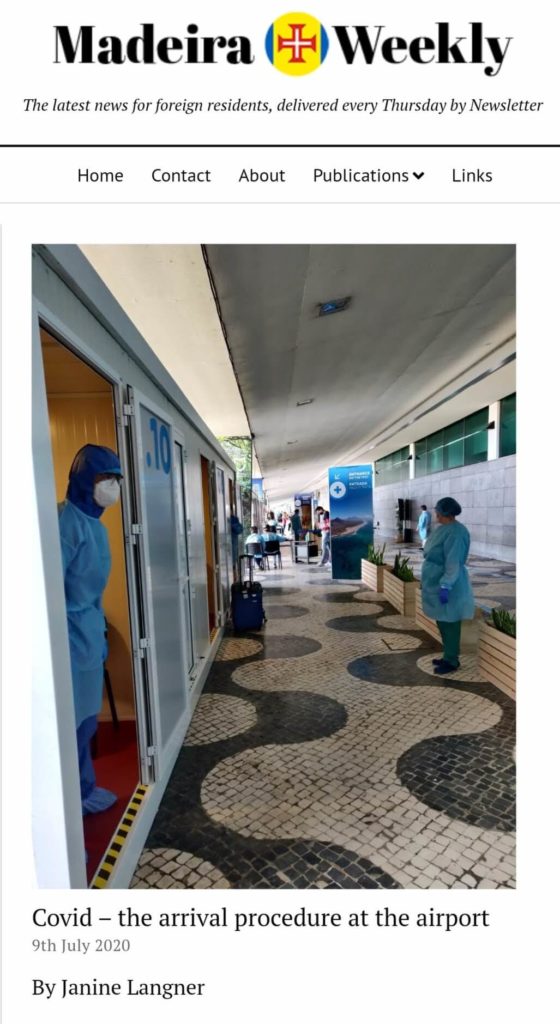 Die Kommunikation hier läuft übrigens im Allgemeinen sehr gut. Wir sprechen ein wenig Portugiesisch und viele Portugiesen sprechen ein wenig Englisch. Ansonsten kommt man mit Händen, Füssen und Gebärden auch sehr weit und manchmal werden auch Freunde angerufen, die dann am Telefon als Übersetzer fungieren. Es geht alles und wir lernen natürlich auch täglich dazu.
Bis jetzt stand noch vor allem viel Organisation, viele Besorgungen und Behördengänge auf dem Programm. Ab nächster Woche wird etwas Normalität dazu kommen, da wieder regelmässig die Arbeit wartet, aber auch der erste Zahnarzt Besuch (Janine ist ein Zahn abgebrochen), der erste Friseurtermin und das ein wenig vergessene Sportprogramm (Janine hat sich heute in der Sportschule angemeldet) ist geplant.
Mal sehen, wie dies alles hier von statten geht und wie dann die Kommunikation verläuft…..
Até à próxima!
Bas und Janine