We zijn eindelijk op Madeira aangekomen en hebben de eerste 10 dagen achter de rug.
De laatste loodjes in Nederland zijn goed gelukt. Met goede ondersteuning hebben we de afgelopen dagen veel voor elkaar gekregen en konden we onze huurwoning goed overdragen. De laatste nacht konden we zelfs in het gastenappartement van onze verhuurder verblijven, zodat het op de dag van vertrek niet zo stressvol was (bedankt Heinz).
De ouders van Janine hebben ons naar het vliegveld in Düsseldorf gebracht, waar we alleen met maskers afscheid konden nemen.
Zowel bij het vertrek op de luchthaven als in het vliegtuig is alles naar omstandigheden goed gegaan. De 1,5 meter afstand werd zoveel mogelijk aangehouden, maskers waren verplicht op de luchthaven en in het vliegtuig en grote handbagage moest worden ingecheckt.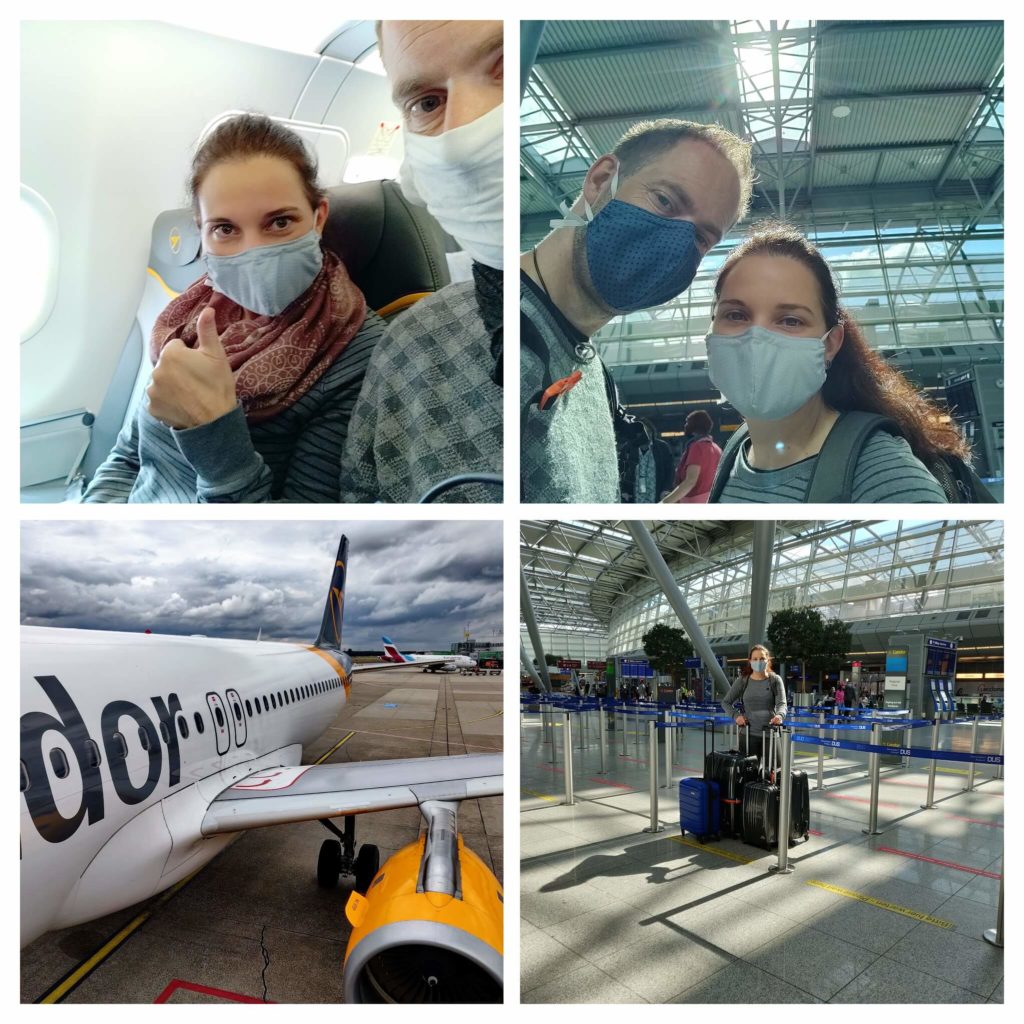 Het vliegtuig was voor 80% geboekt en er waren enkele bijzondere maatregelen, bijvoorbeeld bij het in- en uitstappen, geen wachtrij voor het toilet, het "Public Health Passenger Locator Form" (een formulier met persoonlijke gegevens zodat in geval van ziekte de passagier getraceerd en gelokaliseerd kan worden).
We hadden ons van tevoren al regelmatig online geïnformeerd en de "Madeira Safe to Discover" – app al geïnstalleerd en ingevuld. Hierdoor konden we de procedure op de luchthaven van Madeira duidelijk versnellen.
Na de landing op Madeira werden wij warm en hartelijk verwelkomd. Een heel ontvangstcomité begroette iedereen met bloemen, een banaan, een kleine fles Madeira-wijn en water.
Voor de temperatuurmeting werd men individueel langs een warmtebeeldcamera begeleid.
Toen werden wij door vriendelijke medewerkers, duidelijke pijlen op de grond en via verschillende afzettingen langs een geplande route voor alle passagiers geleid.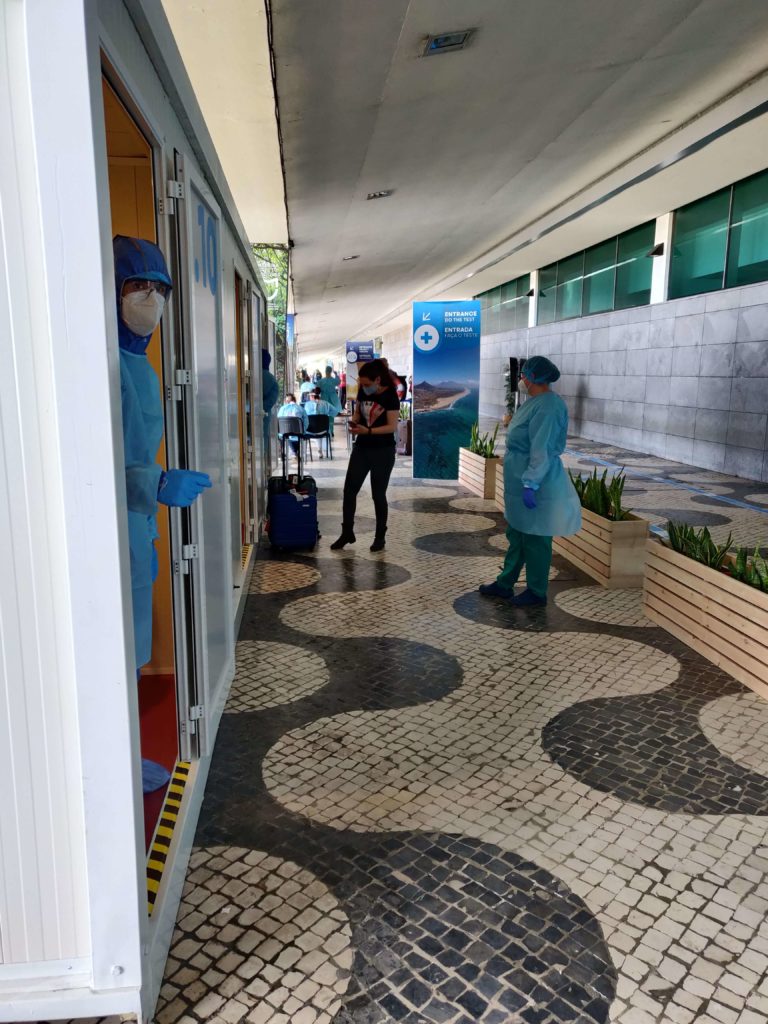 Het "Madeira Safe to Discover"-protocol omvat ook een PCR-test voor iedere aankomende passagier. De test werd afgenomen door een vriendelijke verpleegster, maar dit maakte de test op zich niet prettiger. Weefselmonsters werden met lange staven uit beide neusgaten en de keel genomen. Dit was onaangenaam, maar natuurlijk noodzakelijk en verliep gelukkig vlot.
Gelukkig werden we allebei negatief op Corona getest, zodat we ons daarna zonder quarantaine op het eiland konden bewegen.
Via de app ontvangen we dagelijks een verzoek om aan te geven of onze gezondheidstoestand sinds de laatste melding veranderd is. Dit is zo gedaan en zal nog de komende 14 dagen gebeuren.
Over het algemeen hebben we een goed en veilig gevoel hier. Het systeem van Madeira lijkt goed te werken en ook de inwoners houden zich strikt aan alle regels.
Toen we met Kerstmis en de laatste jaarwisseling op het eiland waren, hadden we al een huurhuis gevonden en het huurcontract getekend. We wisten dus al wat we konden verwachten en we werden hier ook van harte welkom geheten. Het is een prachtig en gemeubileerd huis, wat natuurlijk zeer handig is, vooral voor de eerste tijd zolang onze spullen nog met de container onderweg zijn. Hier kunnen we heel goed wonen tot ons eigen huis klaar is.
Het ligt midden in het dorp en daarom lijkt iedereen ons hier al te kennen als estrangeiros (buitenlanders). Elke dag wordt er gegroet, getoeterd en gezwaaid en we hebben ook veel contact met de buurt. Of ik nu wat gereedschap voor de tuin moet lenen, of we 's morgens door de buurvrouw worden verrast met verse eieren en zelfgemaakte cake of dat we midden op de dag door de buurman worden uitgenodigd voor vers gevangen vis, heerlijk gegrild vlees en natuurlijk vinho (wijn), iedereen verwelkomt ons met open armen.
Dit is precies de manier van leven, die we zochten en waar we nu met volle teugen van genieten.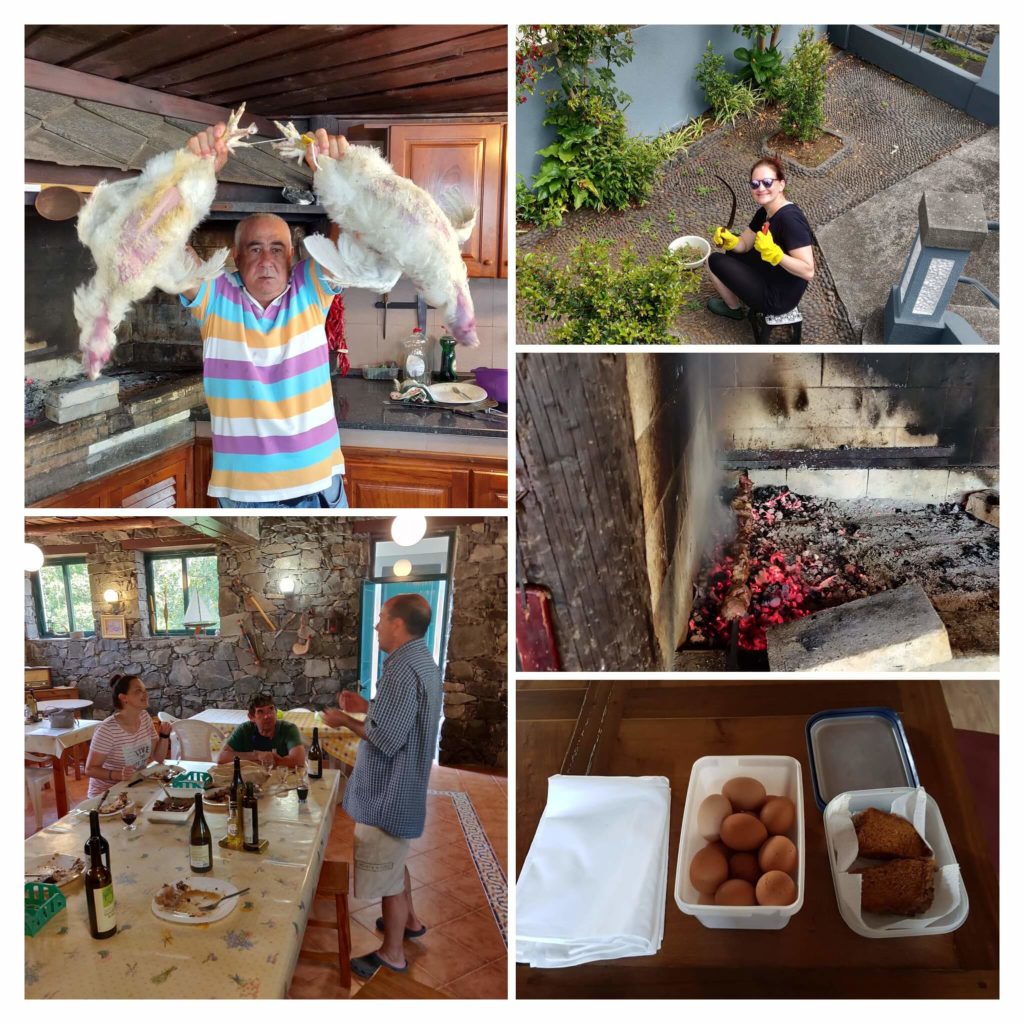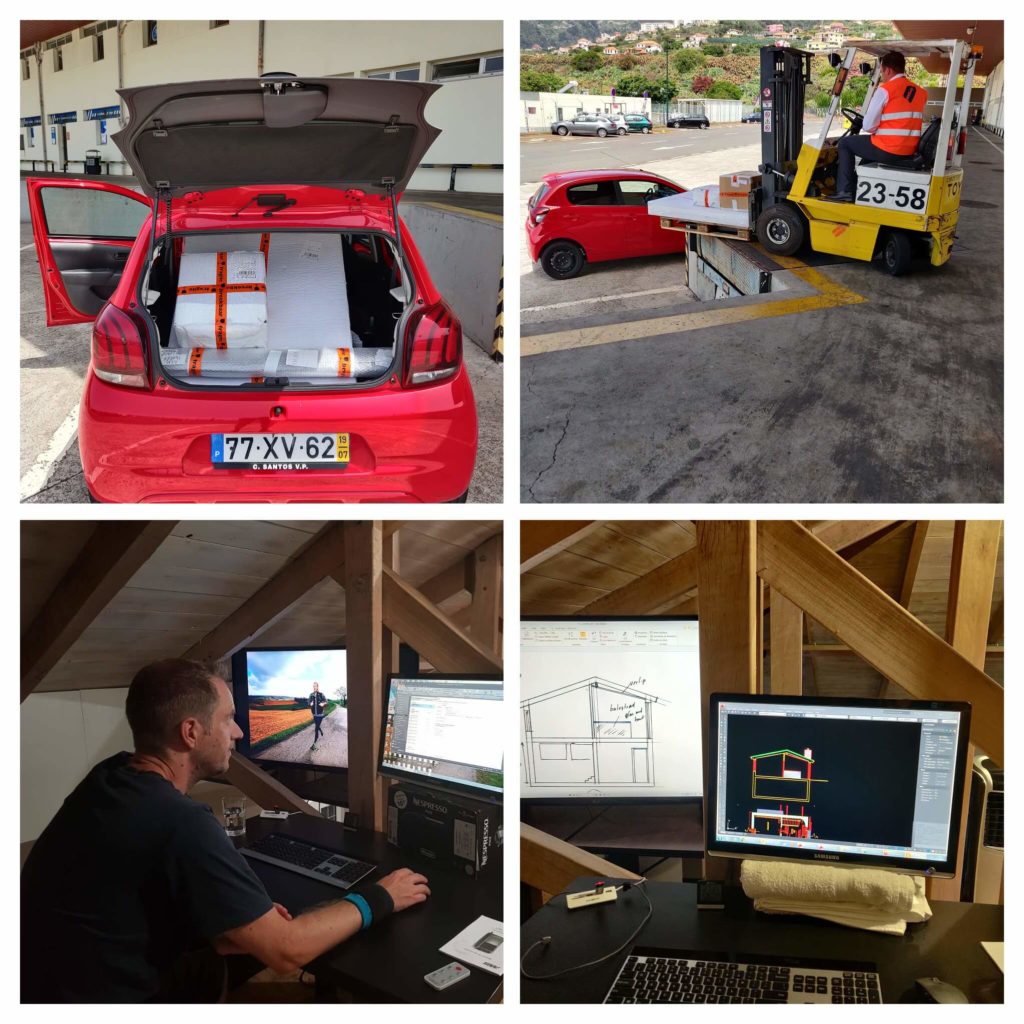 Inmiddels is ook de luchtvracht veilig en onbeschadigd op de luchthaven aangekomen. Alles paste zelfs in de kleine huurauto en kon zonder problemen worden meegenomen.
Dit waren vooral de computer en andere spullen van Bas, zodat hij zijn werkplek kon inrichten.
Voor de eerste 1,5 week hadden we een huurauto gereserveerd, die erg klein was en ook een te zwakke motor had voor de steile wegen en bergen hier. Deels moesten we in de 2e versnelling op de snelweg rijden of ontstond bergopwaarts een lange rij achter ons. Dus moesten we snel voor een eigen auto gaan.
Na grondig onderzoek, overwegingen, aanbevelingen en discussies hebben we een VW Caddy gekocht. Met een krachtige 2.0l dieselmotor kan deze zonder problemen alle bergen beklimmen en is natuurlijk ook zeer handig voor de komende bouwfase. Dus autorijden is eindelijk weer leuk!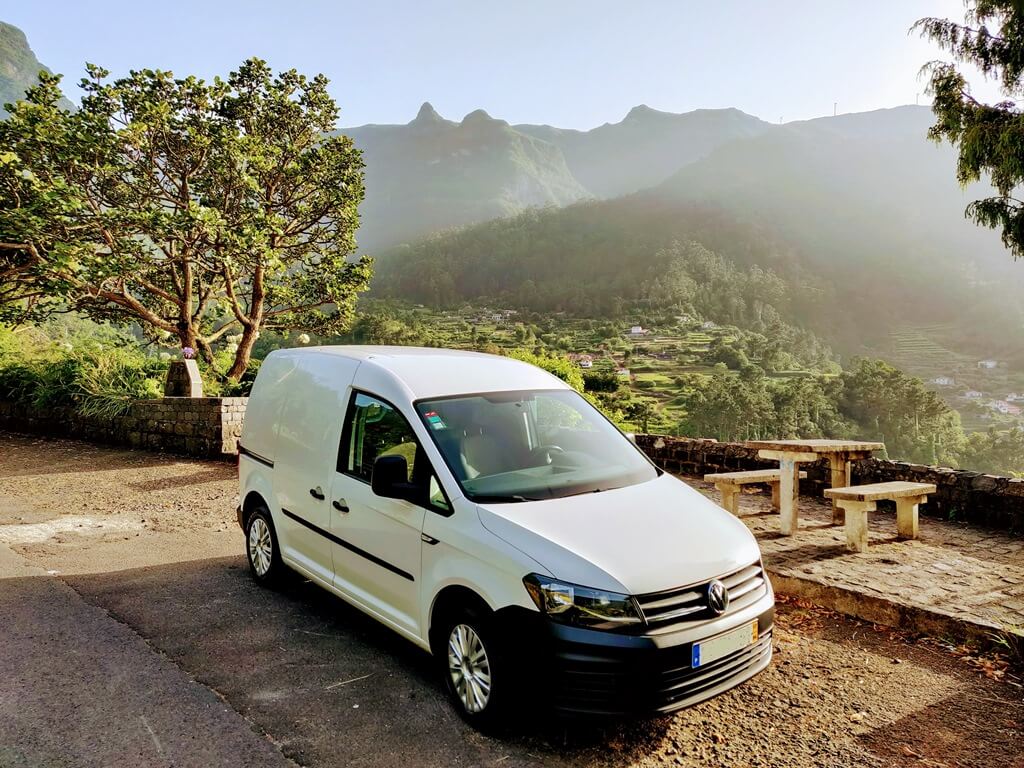 Via via heb ik hier voor de krant van Madeira een ervaringsbericht geschreven over de aankomst en ontvangst op het eiland. Sinds begin juli is Madeira weer toegankelijk voor toeristen, maar natuurlijk zijn er nog te weinig. Aangezien het eiland voor een groot deel van het toerisme leeft, kan Madeira zeker positieve PR gebruiken. Hopelijk kan ik met mijn verslag een kleine bijdrage leveren.
https://madeira-weekly.com/2020/07/09/covid-the-arrival-procedure-at-the-airport/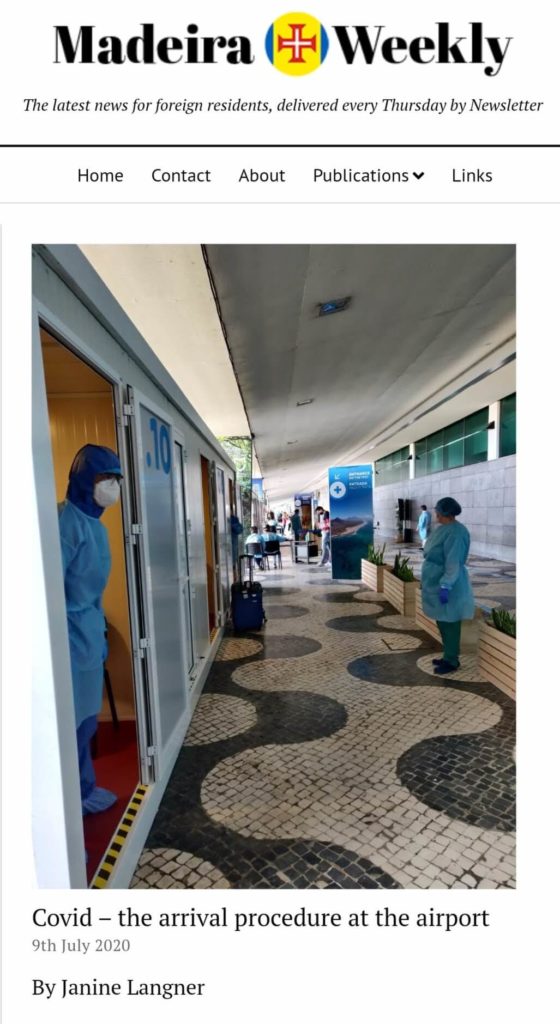 De communicatie hier gaat trouwens over het algemeen erg goed. We spreken een beetje Portugees en de Portugezen spreken meestal een beetje Engels. Anders kun je heel ver komen met handen, voeten en gebaren. Of soms worden er snel wat vrienden gebeld die dan aan de telefoon tolken. Het gaat beetje bij beetje beter en natuurlijk leren we elke dag meer.
Tot nu toe stond er veel organisatie, geregel en officiële afspraken bij verschillende instanties op de agenda. Volgende week zal alles weer wat meer normaal worden, want er wacht het gewone werk, maar ook het eerste bezoek aan de tandarts (Janine's tand is af gebroken), de eerste afspraak bij de kapper en het wat op de achtergrond gekomen sportprogramma (ik heb me vandaag aangemeld bij de sportschool) staat gepland.
Wij zijn erg benieuwd hoe dit alles verloopt en hoe het dan met de communicatie gaat.
Até à próxima!
Bas en Janine