Het is nu midden augustus en wij zijn nu al 1,5 maand hier op het eiland. Inmiddels is er natuurlijk meer routine ontstaan en hebben wij door de alledaagse bezigheden meer ons ritme gevonden. Bas heeft de afgelopen weken gewoon gewerkt, ik was vooral bezig met netwerken, website en schrijfwerk. Inmiddels zijn wij beiden (succesvol) bij de kapper EN bij de tandarts geweest (Bas moest vanwege kiespijn óók gaan) en wij zijn eindelijk weer regelmatig aan het sporten. Madeira is natuurlijk niet Nederland, dus Bas moet wel goed zoeken voor een vlak stuk om te gaan rennen, maar na het rennen kan hij lekker gaan zwemmen in een natuurlijk zwembad in de zee. Ik heb mij aangemeld bij de sportschool in São Vicente. Heerlijk buiten sporten met zeezicht.
Op dit moment is bouwvak in Nederland, waardoor Bas vrij heeft en wij genoeg tijd hebben om onze spullen uit te pakken.
Wat de bureaucratie en de administratie betreft, hebben wij weer grote stappen kunnen zetten.
Wij zijn inmiddels officieel inwoners van Portugal, hebben hiervoor een mooi stuk papier gekregen. Verder zijn wij beide inmiddels als ZZP'er hier op Madeira aangemeld. Dit betekent, dat het bedrijf van Bas veranderd in een Portugees bedrijf en dat ik straks als ZZP'er het beheer van verschillende vakantiehuizen kan starten. Wij hebben ook een accountant gevonden, die gespecialiseerd is in emigranten.
Verder zijn wij ook met alle voorbereidingen en aanvragen voor het stuk grond en ons bouwproject bezig. Helaas zijn er nog geen zichtbare vorderingen, maar wij zijn wel met belangrijke voorbereidingen en stappen bezig.
Voor het beheer van verschillende vakantiehuizen, ben ik al goed aan het netwerken. Gelukkig hebben wij via onze verhuurder al verschillende contacten en worden wij regelmatig uitgenodigd in de buurt. De taalbarrière is voor de meeste het grootste probleem, waardoor zij vaak blij zijn met iemand, die de toeristen in hun taal zou kunnen verwelkomen. Echter is het op het eiland op dit moment nog erg rustig qua toeristen, dus gaan we nog even door met netwerken en voorwerken. Ze verwachten dat het richting herfst weer drukker zal worden. Wij zullen het zien. Genoeg te doen, dus wij vervelen ons niet.
Laatst werden wij uitgenodigd op een weekend-lunch, natuurlijk weer bij die inmiddels bekende buurman (de naam weten wij nog steeds niet). Deze keer werden op zaterdag verschillende kippen gevangen en geslacht. Dat gebeurt natuurlijk onder het genot van lekker eten en wijn, veel wijn. Hierbij zijn dan vooral de mannen aanwezig, ik ben vaak de enige vrouw. Op zondag is dan de eigenlijke lunch, waar dan ook de vrouwen en kinderen aanwezig zijn. Er waren zeker 30 personen aanwezig. Iedereen brengt iets mee, of helpt bij het koken, of bij de afwas, etc… Het lijkt, alsof iedereen een eigen, ingespeelde taak heeft. Wij zijn nog aan het uitzoeken, hoe het allemaal precies werkt. Deze keer hebben we gewoon een paar flessen wijn mee gebracht, die komen altijd van pas. Wij hebben ook nog genoeg stroopwafels in de aanbieding, om hun een klein stukje Nederlandse traditie te laten proeven. Zij houden hier wel van zoetigheden, dus het zal zeker in de smaak vallen.
Alles draait om het eten en naast de kippen werden er ook genoeg bijgerechten klaargemaakt. Als de heer des huizes het buffet opent, begint het grote smullen. Het is echt heerlijk om te zien, hoe zij allemaal van het eten en de gezelligheid genieten. Zoals je kunt zien op de foto wordt de hele kip gebruikt, van kop tot teen (letterlijk 😉 ).
Na het eten hebben wij ook hun passie voor het spel Domino ontdekt. Ook hierbij zijn ons nog niet alle regels helemaal duidelijk, maar om die mannen zo enthousiast te zien spelen en te discussiëren … gewoon geweldig om mee te maken en daarnaast is dit natuurlijk ook een leuke gratis Portugese les.
Onze verhuurder Gilberto is timmerman en aannemer en heeft zijn eigen bedrijf met meerdere medewerkers. Regelmatig mogen wij een kijkje nemen op verschillende werkplekken van hem. Op die manier zien en leren wij de typische manier van bouwen op Madeira kennen. Ieder land heeft zijn eigen kenmerken en bepaalde kneepjes, heel interessant om te zien. Zo kunnen wij alvast indrukken en ideeën verzamelen voor ons eigen bouwproject.
Wij willen ook graag even aangeven, hoe internationaal Madeira is en juist deze mix van verschillende culturen is (tenminste voor ons) erg interessant en inspirerend. Wij hebben in de afgelopen weken veel interessante mensen ontmoet en hebben hier erg van genoten.
De buurman is oorspronkelijk uit Venezuela en er wonen hier over het algemeen veel mensen uit Venezuela, Brazilië en Zuid-Afrika. 
Wij hebben al onze toekomstige buren (bij het stuk grond) ontmoet. Een super leuk en lief koppel: zij is van Madeira en hij is van Ierland. Zij wonen gedeeltelijk hier op Madeira en gedeeltelijk in hartje Londen. Heel fijn om hun als toekomstige buren te hebben.
Verder horen wij inmiddels bij een soort "wandelclubje". Via Lisa, een geweldige stadsgids van Funchal en mountain guide, hebben wij een Whats-App / Facebook- groep, waar regelmatig wandelingen worden georganiseerd. Gewoon leuk en gezellig met een klein groepje. Hier zitten naast een aantal Portugezen ook een leuke Amerikaanse meid en een jonge man uit Sydney, Australië bij. Zij zijn beide voor werk voor langere tijd hier op het eiland.
En natuurlijk hebben wij ook contact met landgenoten, die ook geëmigreerd zijn.
Maar het belangrijkste: onze spullen zijn eindelijk aangekomen!!!
Zoals in een eerdere blog te lezen, werden onze spullen eind juli in Nederland bij ons thuis opgehaald en waren nu 6 weken onderweg. Via dit transportbedrijf werden zij op totaal 5 pellets gestapeld en verpakt en gingen toen per vrachtwagen naar Lissabon. Van daaruit werd alles, samen met andere spullen, in een container verpakt en dan op de boot met bestemming Madeira.
Aangekomen in de haven van Caniçal, Madeira, werden de spullen door een Portugees transportonderneming in ontvangst genomen, die ook alle douane afwikkelingen regelde. Wij werden via de mail en telefonisch over de stand van zaken op de hoogte gehouden en uiteindelijk werden de spullen weer netjes en onbeschadigd bij ons hier in het huis afgeleverd.
Gelukkig hebben wij bij het huis een grote garage, waar wij alle spullen makkelijk kunnen opslaan, die wij op dit moment niet nodig hebben en dus goed verpakt willen laten. Maar verder is het heel fijn om een stuk van ons oude thuis nu in het nieuwe thuis te hebben. Hierdoor wordt het nog meer 'ons huis'.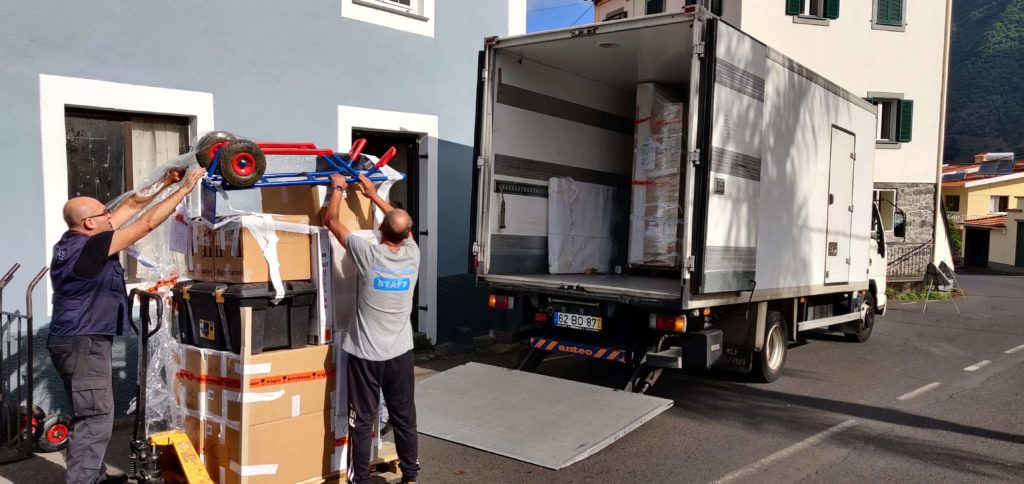 Hopelijk kunnen wij de volgende keer meer over ons bouwproject vertellen en zijn we met de aanvragen al goed opgeschoten.
Até à próxima!
Bas & Janine