It's the middle of August now and we have been living on the island for 1.5 months now. In the meantime, there is more of a routine now and we have found our rhythm with the daily life. Bas has been working for the past weeks, while I was mainly busy with networking, this website and writing. The both of us have (rather successfully) been to the hairdresser as well as to the dentist (Bas, too, had to pay him a visit due to toothache) and we are now finally working out again. Surely, Madeira is not quite like the Netherlands, so Bas had to look out for a flat area for his running activities. Having finished running, he loves to go swimming in the natural pool – the sea. I signed up at a gym in São Vicente. The classes are outdoor with ocean view – really nice!
At the moment, Bas is off work so we have enough time for unpacking our stuff.
As far as bureaucracy and administration are concerned, we have been able to make great strides again.
We are now official residents of Portugal, therefore we have received a nice piece of paper. Furthermore, we are now both registered as self-employed here on Madeira. This means, that the Bas' business will change into a Portuguese company and that I will soon be able to start managing several rental homes. We also found an accountant who is specialized in emigrants.
Besides that, we are busy with all the preparations and applications for the plot of land and our construction project. Unfortunately, there is no visible progress yet, but we are busy with important steps, which need to be done in advance.
For the management of several rental homes, I have already been busy with networking. Luckily, we got several contacts through our landlord and we are invited regularly in the neighborhood. The language barrier still is the biggest problem for most of them, so often they are happy with someone welcoming their guests in their mother tongue. However, tourism on the island is still very quiet at the moment, so we keep on networking and preparing. They expect things to get more busy towards autumn. We will see. Enough to do, so we won't get bored until then.
The other day we were invited to a weekend-lunch, again by that famous neighbor (we still don't know his name). On Saturday, several chickens were caught and slaughtered. Of course that happened while enjoying good food and wine, a lot of wine actually. Especially the men are participating, very often, I am the only woman. On Sunday, the actual lunch takes place, where all the women and children are also present. There were at least 30 people all together. Everyone would bring along something to eat or to drink, or helps with preparing the food, cooking, the dishes, etc… It seems, as if everyone has their specific tasks, while Bas and me are still trying to figure out exactly how it all works. This time we just brought some bottles of wine – they always come in handy. Also, we ensure having enough "stroopwafels" on offer, to let them taste a small piece of Dutch tradition. They do like sweets here, so it certainly appeal does to them.
It was all about the food: besides the chickens, more than enough side dishes had also been prepared. As the lord of the house opened the buffet, the big feast began. It was really great to see how they all enjoyed the food and company. As you can see on the picture all of the chicken is used, from head to toe (literally 😉 ).
After dinner we also discovered their passion for a game called Domino. For us, not all rules are clear yet, but to see these guys playing and discussing so enthusiastically … it is just a pleasure to experience and sure enough, this is also a nice free Portuguese lesson.
Our landlord Gilberto is a professional carpenter and contractor and runs his own construction company with several employees. Regularly, we are allowed to take a look at several of his worksites. This way, we get to see and know the typical way of building on Madeira. Every country has its own characteristics and certain tricks which is very interesting to see. This also allows us to gather impressions and ideas for our own construction project.
We would also like to mention how international-minded Madeira is and how interesting and inspiring the mix of different cultures is – at least to us. In the past few weeks, we have met a lot of interesting people and enjoyed this very much.
The neighbor is originally from Venezuela and generally many people from Venezuela, Brazil and South Africa live here. 
We already met our future neighbors (near the plot) – a super nice and sweet couple! She is from Madeira and he is from Ireland. They live partly on Madeira and partly in the center of London. Very nice to have them as future neighbors.
Furthermore, we now belong to a kind of "walking club". Through Lisa, a great city guide of Funchal and mountain-guide, we joined a Whats-App / Facebook group, where walks are regularly organized. Just fun and easy with a small group. Besides a few Portuguese, there is also a nice American girl and a young man from Sydney, Australia. They both are staying on the island for a longer period of time because of their jobs.
And of course we are also in contact with compatriots, who also emigrated to this beautiful island.
But most importantly, our stuff has finally arrived!
As we mentioned in an earlier blog, our stuff was picked up from our former home in the Netherlands at the end of June and has been on the road for 6 weeks now. Throughout the transport, all out belongings were stacked and packed on a total of 5 pellets and then transported by truck to Lisbon. From there, everything was packed into a container and put on the ship to Madeira.
Arriving at the port of Caniçal, Madeira, the goods were then received by a Portuguese transport company, which also took care of all customs formalities. We were kept informed about the whole process by email and phone. The goods were finally delivered at the house, neat and undamaged.
Luckily there is a large garage at the house, where we can easily store all the stuff that we don't need right now and therefore leave it all well packed. Apart from that, it's very nice to have a piece of our old house in the new house. This makes it even more "our home".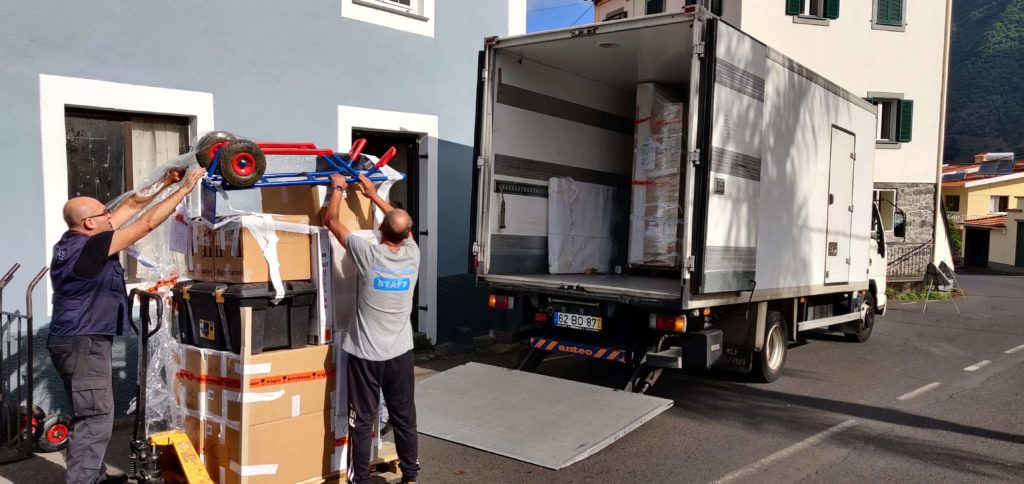 Hopefully next time we will be able to tell more about our construction project and have we already made good progress with the applications.
Até à próxima!
Bas & Janine