We finally arrived in Madeira, we have been here for 10 days now.
The last errands in the Netherlands worked out well. With active support we have managed a lot in the last days and could hand over our rented flat in good order. The last night we spent in the guest apartment of our landlord, so it was not too stressful on the day of departure (thanks a lot Heinz).
Janine's parents took us to the airport in Düsseldorf, where there was a farewell with masks. When departing from Düsseldorf Airport and on the plane, everything went in conformity with the regulations. The minimum distance was kept as far as possible, a mask was required in the airport and in the aircraft. Larger hand luggage had to be checked in.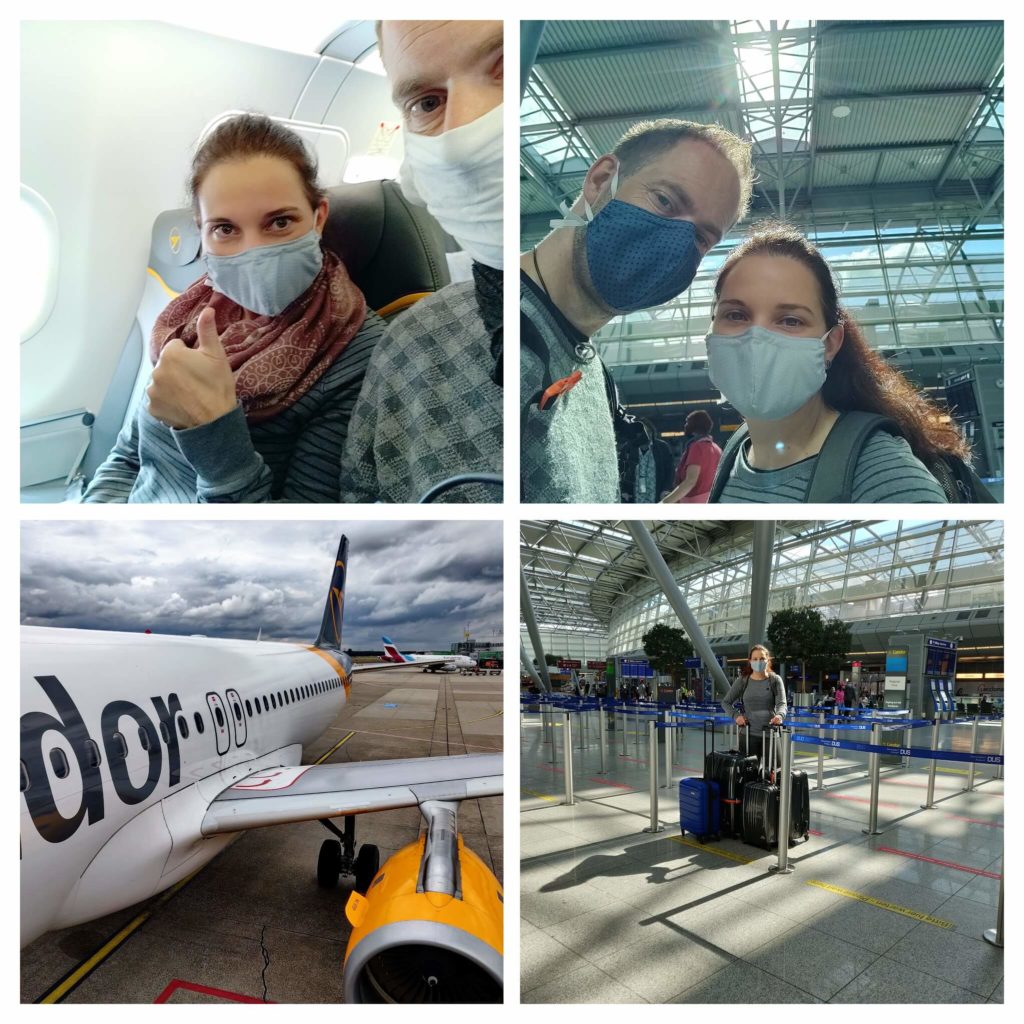 The aircraft was 80% full and there were some special measures, such as how to get in and out, and there was no queue in front of the toilet. We filled out the "Public Health Passenger Locator Form", with personal information to enable tracking in case of illness.
We had informed ourselves regularly in advance online and already installed the "Madeira Safe to Discover" app in which we entered our data. This enabled easier and faster entry at Madeira Airport.
After landing in Madeira, a warm welcome awaited us. A reception committee greeted everyone with a flower, a banana, a small bottle of Madeira wine and water.
We were passed individually along a thermal imaging camera for temperature measurement. Since we already had installed the app before our flight, we were led by friendly staff and clear arrows on the ground and barriers along the intended route to various stations for all passengers.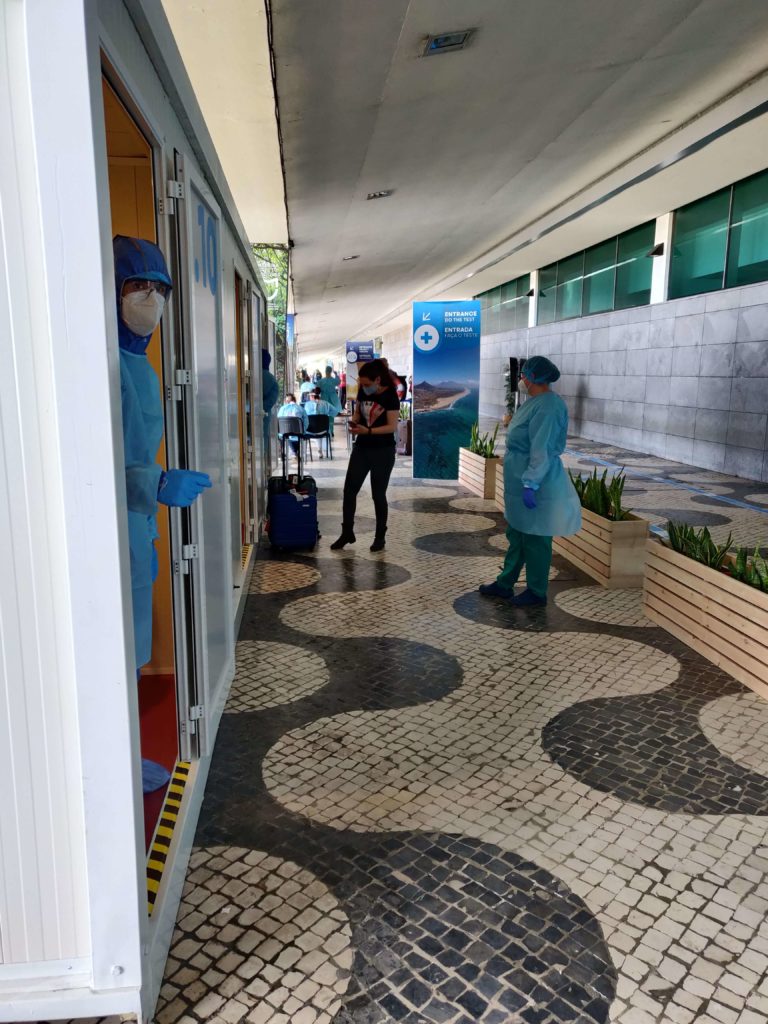 The "Madeira Safe to Discover" protocol includes a PCR test for every arriving passenger, which was done by a friendly nurse, but of course, this did not make the procedure more pleasant. Tissue samples were taken from both nostrils and the throat using long sticks. This was uncomfortable, but of course necessary and also done quickly.
Fortunately we both tested negative for Corona, so we are able to move freely around the island afterwards.
As for now, we receive a daily request via the aforementioned app whether our state of health has changed since the last notification. This is answered quickly; the requests will continue for the next 14 days.
In general, we had a good and safe feeling on arrival. The Madeiran system seems to be working well and all rules are being followed carefully by the residents.
When we were on the island at Christmas last year, we had already found a rental house and signed the rental contract. So we already knew what to expect and we were also warmly welcomed here. It is a nice and furnished house, which is very practical, especially for the time our belonings are still in the container. Here we will be able to live very well until our own house will be finished.
The rental house is located in the middle of the village and that's why everyone here already seems to know us as estrangeiros (foreigners). Everybody greets daily, honks or waves and so we have a lot of contact with the neighborhood. Whether I have to borrow some tools for the garden, or we are surprised by the neighbour in the morning with fresh eggs and homemade cake or whether we are invited by the neighbour in the middle of the day to freshly caught fish, delicious grilled meat and of course vinho (wine), everyone welcomes us with open arms.
This is exactly the quality of life that we were looking for.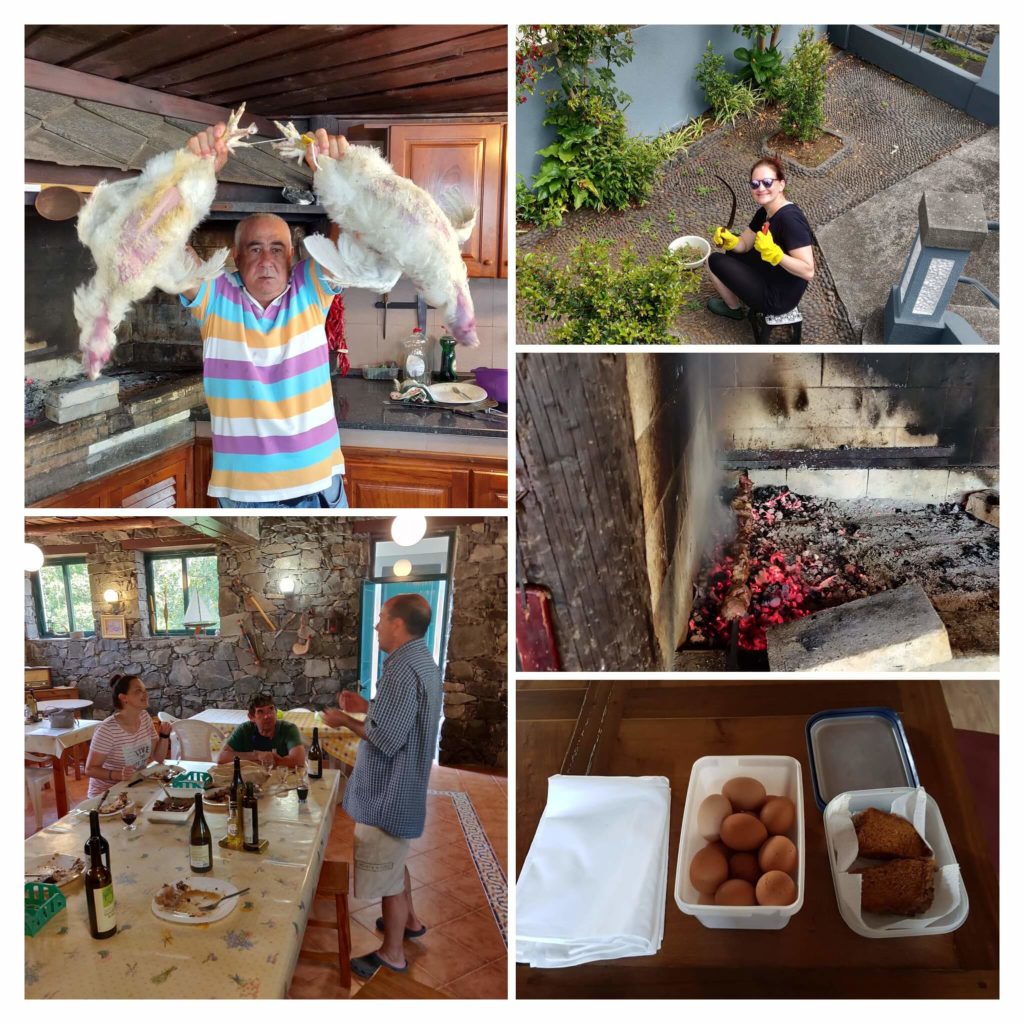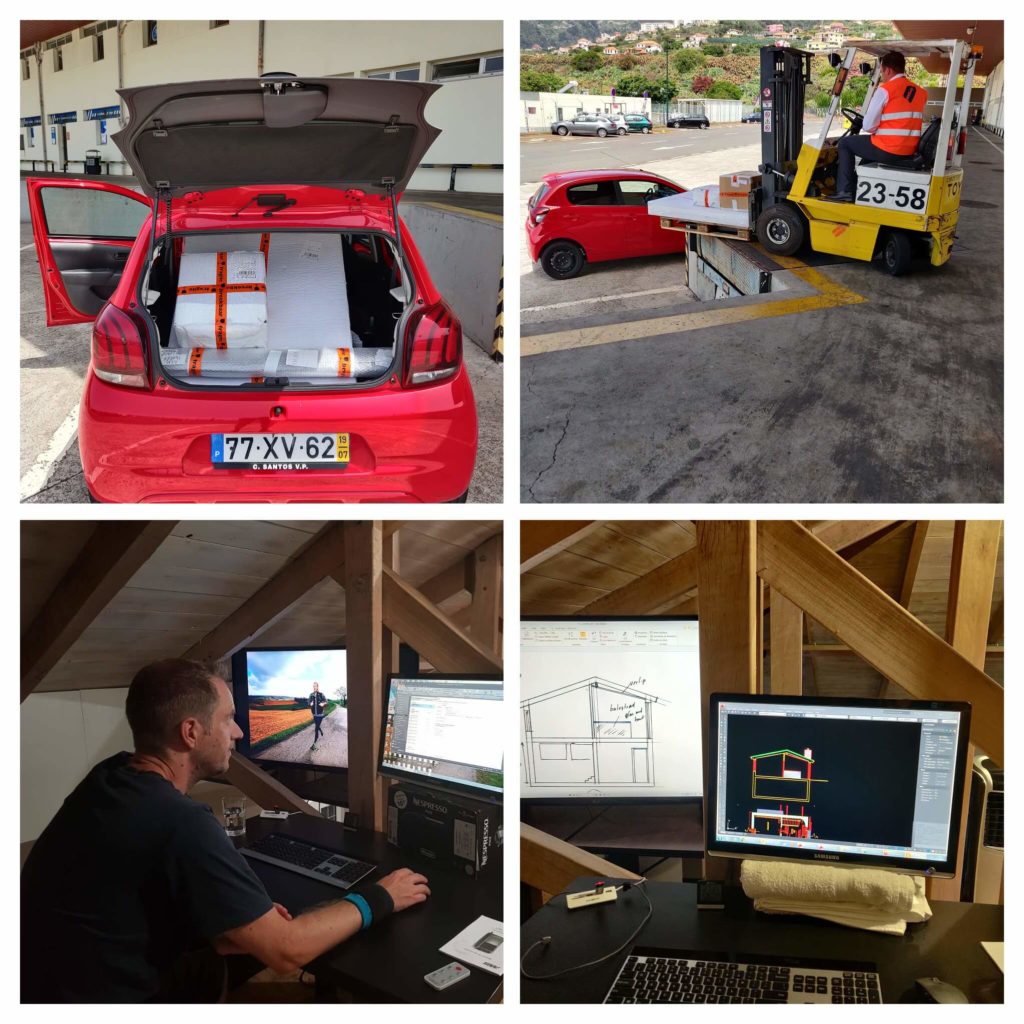 In the meantime, the air freight has also arrived safely and undamaged at the airport. Everything even fitted into the small rental car and could be taken along without any problems.
This was mainly Bas's computer, so he could set up his working place.
For the first 1,5 weeks we had a rental car, which was very small and had too little power for the quite steep roads and mountains over here. Sometimes we had to drive in 2nd gear on the highway or had a long queue behind us up in the mountain. So we had to get our own, car quickly.
After a thorough research, several considerations, recommendations and discussions, we bought a VW Caddy. With a powerful 2,0 l diesel engine this one can climb all mountains without any problems and is of course very practical for the upcoming construction time. So now driving is fun again!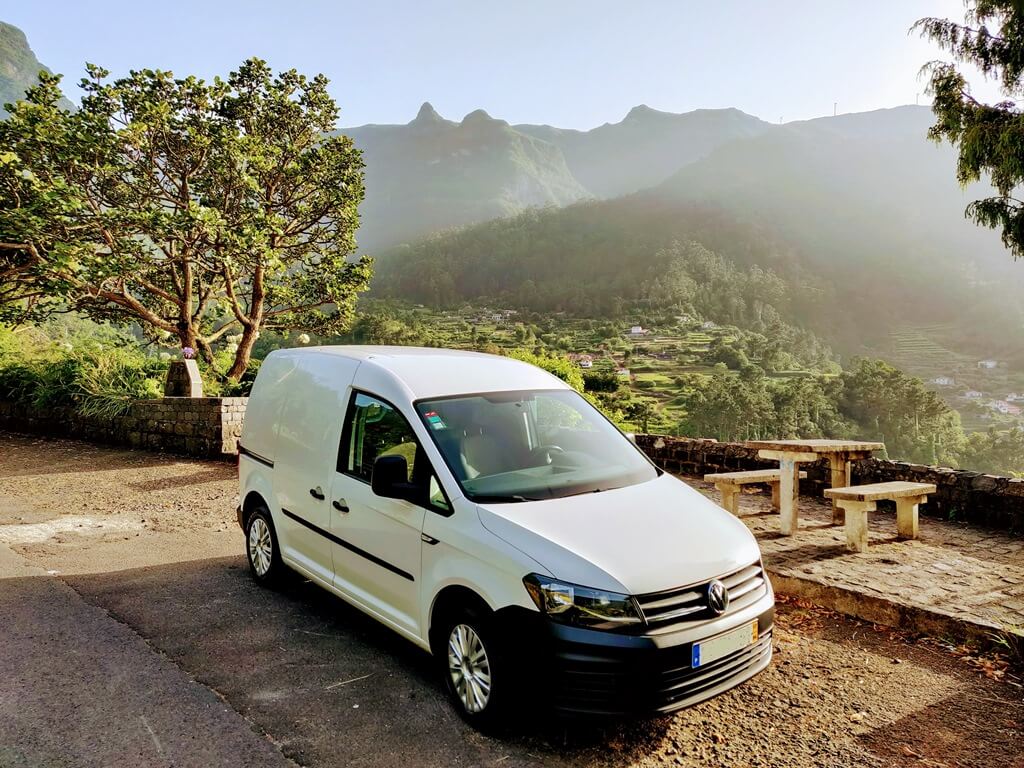 Through contacts here, I wrote a article for the Madeira newspaper about our arrival on the island. Since the beginning of July, Madeira is re-opening again for tourists, but of course, only very few are coming here. But as the island's economy lives to a large extent from tourism, Madeira can definitely use some positive PR. Hopefully I can make a small contribution with my articele.
https://madeira-weekly.com/2020/07/09/covid-the-arrival-procedure-at-the-airport/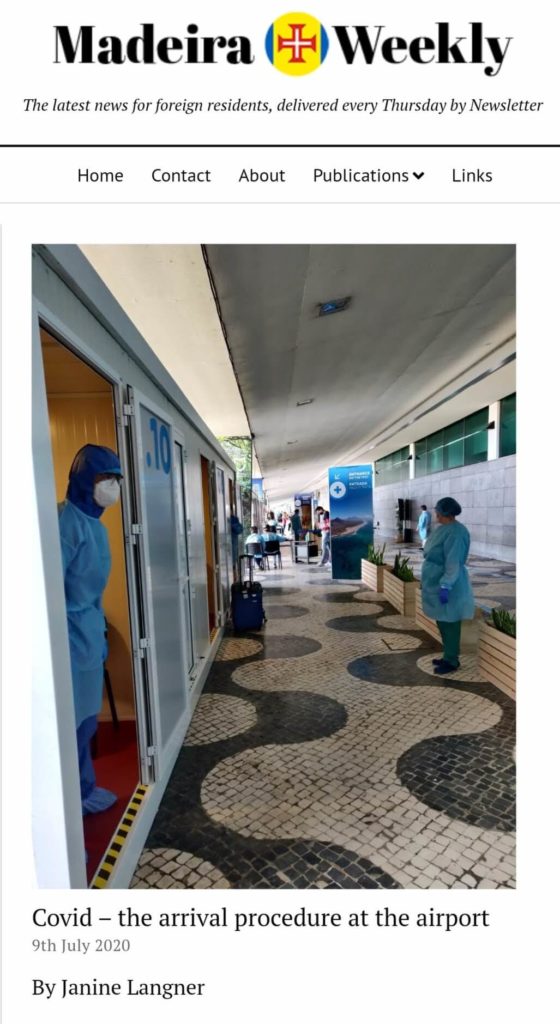 By the way, communication here is generally very good. We speak a little Portuguese and the Portuguese usually speak a little English. Otherwise you can get along very well with hands, feet and signs and sometimes friends are called to translate on the phone. We can definitely make ourselves understood and of course we learn a bit more every day.
Up to now, a lot of organisation, errands and visits to the authorities have been on the agenda. Next week we return to some kind of normality, as regularly work is waiting again, but also the first visit to the dentist (Janine broke a tooth), the first appointment at the hairdresser and the almost forgotten sports program (Janine registered today at the gym) is planned.
Let's see how all this will go on and how the communication will work out then?
Até à próxima!
Bas and Janine