I sent the last Blog in May and now it is already going towards winter. Yes, I know, you haven't heard from me for far too long. But so much has happened in the last few months and time flies of course.
I had a lot of visitors and it was great to see everyone. Sometimes it's a bit surreal to see certain people here and to be on Madeira with them. But of course I really enjoyed spending time with everyone.
My parents were also visiting again and spent about 3.5 weeks in Madeira. They keep exploring the surroundings and had a great time. They were able to help me with some errands and luckily they were here at the right time. But more about that later.
I would like to take the opportunity to send a big thank you to all of you!!!
Not only to those who have been visiting, but also to everyone who keeps in touch with me through messages, phone calls, packages and/or video calls.
Even though Madeira is my new place of residence, it is still nice to experience some kind of home and not having to miss this contact.
From time to time I get asked if I don't miss any particular German or Dutch specialities. To be honest, not really, although I have already "ordered" Aachener Printen for the coming Christmas season.
Speaking about my work, also a lot has happened.
In spring, I managed one rental home and a second one was under construction. In the meantime, I got to know a lot of people, convinced the Portuguese of the German accuracy and could expand my work to 9 rental homes. These are now spread over different places on the island, São Vicente, Ponta Delgada, Ponta do Sol and Calheta.
It was a lot of work and very time consuming to prepare all the houses for the guests. Airbnb accounts had to be created, photos taken and descriptions written in different languages. Some of the houses also had to be prepared or adapted for renting.
In the meantime, all 9 houses are ready, online and I have already received the first guests.
My main tasks are the communication with the guests, the reservations, the personal contact during check-in and check-out and I am available as a contact person for all questions or problems.
At this moment, I am building a team around me, which takes care of the cleaning, the gardens and the pool and can also do the check-ins in case I cannot be there.
Comparing to 1 year ago, it is a lot more work and I have to coordinate everything very well, but it's a lot of fun and I'm happy that all the rental homes are booked.
Here are some impressions and the links to the houses:
https://airbnb.com/h/fajadecima
https://airbnb.com/h/littleescapemadeira
https://airbnb.com/h/palheirodaadufa
https://airbnb.com/h/thewhiterabbithouse
https://airbnb.com/h/mountainoceanview
https://airbnb.com/h/oceanviewmadeira1
https://airbnb.com/h/oceanviewmadeira2
https://airbnb.com/h/oceanviewmadeira3
https://airbnb.com/h/oceanviewpalheiro
Finally also good news about the building project:
In the meantime, all building applications have been approved, the plot of land is registered as building land and the preparation of the land has already started. The construction company expects to finish the construction in about 8 months, but I assume it will take about 1 year.
To actually see the start of the construction has triggered mixed feelings in me. On the one hand, I'm happy that it's finally starting – it took long enough and needed a lot of preparation. But on the other hand, of course I would have loved to share this moment with Bas and experience it together. It was mostly his project and I would have been very happy if he could see the realisation of his dream. But in the end, I am happy to continue his project and I am convinced that he will be very proud of the result.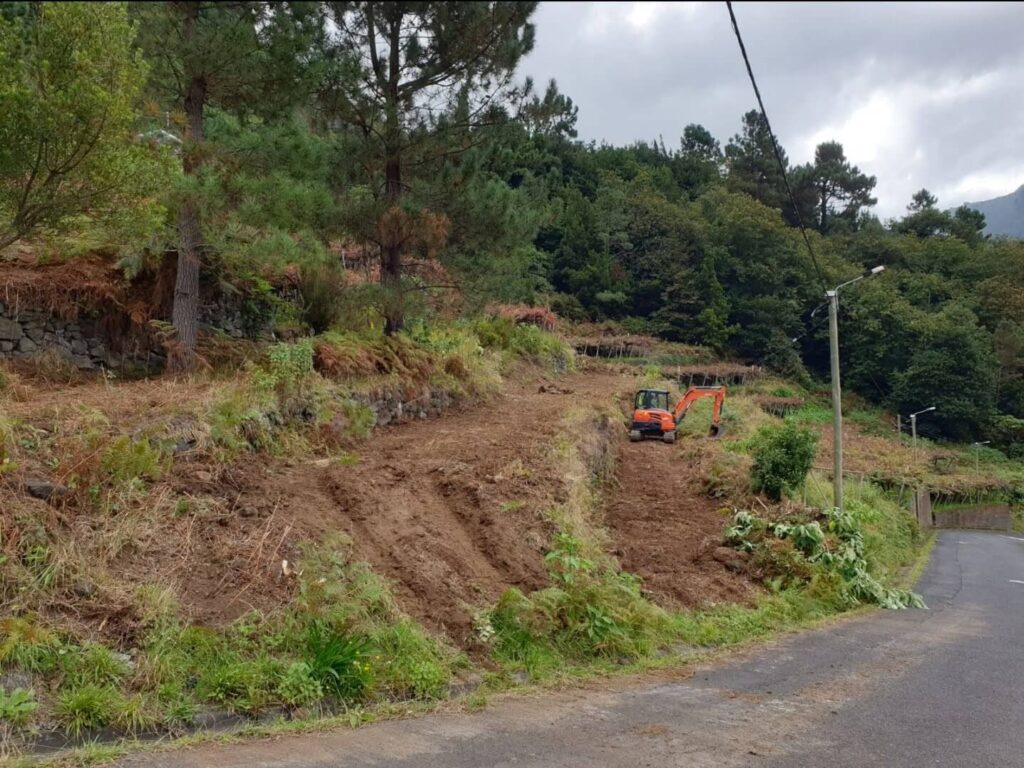 In the meantime, I had to move to another house here in São Vicente.
Unfortunately, the rented house where I have been living until now was sold and I had to look for a new place. This was agreed from the beginning, but I still had hope that I could stay there until I moved into my own house.
Moving is always stressful and it was also my first move alone in many years. It was also quite emotional because the last memories of Bas were in that house. But maybe it was also a good thing to be forced to go through Bas' stuff.
Apart from that, my new place is amazing. I moved into Gilberto's house, which was supposed to be his second holiday home. I had luck and am very grateful that Gilberto was able to help me out and that I can rent this house until the construction project is finished.
And to come back to my parents and the good timing….. Luckily, my parents were here on the island at the time of the moving and were able to support me with all sorts of things.
The house has a great location and is close to the construction area from the new house. It is at the end of a small dead end road, at the top of the mountain and I enjoy the peace, the solitude and the nature here. At first I had to get used to the fact that it's pitch black here at night and you can't hear a thing, but now I enjoy it and am happy every time that I have this little safe haven.
Now it's even getting close to Christmas and after much deliberation I have decided to stay here in Madeira for the holidays. It will be the first Christmas without Bas and certainly not easy, but I can rely on my friends here and there is already a Christmas party planned with lots of German traditions.
Take care and I'll do my best to make sure the next blog won't take that long.

Até á próxima,
Janine