De laatste Blog heb ik in mei gestuurd en nu gaat het al met grote stappen richting de winter. Ja, ik weet het, ik heb veel te lang niets van me laten horen. Maar er is zo veel gebeurd de laatste maanden en de tijd vliegt hier natuurlijk ook.
Ik had de afgelopen tijd heel veel visite en het was heerlijk om iedereen weer eens te zien. Het blijft soms ook een beetje onwerkelijk om bepaalde vrienden hier op Madeira te ontmoeten en samen met hun hier tijd door te brengen. Maar ik heb er volop van genoten om samen het eiland de verkennen.
Ook mijn ouders zijn weer langs geweest en waren 3,5 week hier. Iedere keer ontdekken zij meer van Madeira en genieten natuurlijk ook van de tijd hier. Verder waren zij gelukkig op het juiste moment hier om mij met bepaalde dingen te helpen, maar hierover later meer.
Bij deze wil ik ook iedereen graag een keer bedanken!!!
Niet alleen bij diegenen die op bezoek zijn geweest, maar ook bij iedereen, die met berichten, brieven, kaarten, telefoongesprekken, pakketjes of videogesprekken contact met mij heeft gehouden.
Madeira is natuurlijk mijn nieuwe woonplaats, maar op die manier ervaar ik altijd een stukje thuis en voelt het toch minder ver weg.
Ik krijg ook steeds de vraag, of ik niet bepaalde typische Duitse of Nederlandse specialiteiten mis. En ik moet zeggen, eigenlijk niet echt. Terwijl ik voor de komende Kersttijd wel al "Aachener Printen" heb besteld.
Wat mijn werk betreft is er ook heel veel veranderd.
In het voorjaar beheerde ik nog maar 1 vakantiehuis en een tweede werd net gebouwd. In de tussentijd heb ik een groot netwerk opgebouwd en de Portugezen van het voordeel van mijn Deutsche Gründlichkeit overtuigt. Zij ervaren dat de klanten het hoog waarderen. Maar het blijft wel nog wat wennen voor hen.
Inmiddels heb ik mijn werk naar 9 vakantiehuizen uitgebreid, welke nu op verschillende locaties zijn: São Vicente, Ponta Delgada, Ponta do Sol en Calheta. Dus zowel aan de noord- als de zuid kust van Madeira.
Het was allemaal best veel werk en het heeft veel tijd gekost, om alle huizen voor toekomstige gasten voor te bereiden. Voor alle huizen moest een Airbnb account opgesteld worden, foto's gemaakt en alle beschrijvingen in verschillende talen geschreven worden. Gedeeltelijk moest ook nog van alles aan de inrichting worden aangepast of voorbereid.
Maar eindelijk zijn alle 9 huizen klaar, staan online bij Airbnb en de eerste gasten heb ik overal al mogen ontvangen.
Mijn werk is vooral de communicatie met de gasten, het beheren van de kalenders en reserveringen, het persoonlijk contact tijdens de check-in en -outs en bovendien ben ik voor alle vragen en problemen het aanspreekpunt.
Op dit moment ben ik ermee bezig om een goed team om me heen op te bouwen, dat voor de reiniging, voor de tuinen en het zwembad verantwoordelijk is. En verder, indien nodig, mij kan ondersteunen, als er meerdere gasten in verschillende huizen op dezelfde dag aankomen.
Tegenover het voorjaar heb ik natuurlijk duidelijk meer werk en moet alles goed coördineren, maar ik vind het super leuk werk en ben blij dat alle vakantiehuizen regelmatig geboekt worden.
Hier een paar indrukken van de verschillende huizen en natuurlijk ook alle bijbehorende links naar de websites:
https://airbnb.com/h/fajadecima
https://airbnb.com/h/littleescapemadeira
https://airbnb.com/h/palheirodaadufa
https://airbnb.com/h/thewhiterabbithouse
https://airbnb.com/h/mountainoceanview
https://airbnb.com/h/oceanviewmadeira1
https://airbnb.com/h/oceanviewmadeira2
https://airbnb.com/h/oceanviewmadeira3
https://airbnb.com/h/oceanviewpalheiro
Eindelijk ook goed nieuws van mijn toekomstige bouwproject:
Inmiddels zijn alle aanvragen goedgekeurd, het bestemmingsplan is gewijzigd en ze zijn al met het voorbereiden van het stuk grond begonnen. Het bouwbedrijf gaat van ongeveer 8 maanden bouwtijd uit, dus ga ik maar op 1 jaar rekenen.
Toen ik voor het eerst zag dat ze op het stuk grond bezig waren, heeft dit verschillende emoties losgemaakt. Natuurlijk ben ik super blij dat het eindelijk gaat beginnen na al die voorbereiding en planning. Maar het was ook erg verdrietig en heftig om dit moment niet samen met Bas te kunnen delen. Het was vooral zijn project en ik had het hem zo zeer gegund om dit met eigen ogen te zien gebeuren. Maar natuurlijk ben ik ook dankbaar dat ik op die manier zijn droom verder kan uitvoeren en ik ben ervan overtuigt dat Bas erg trots op het resultaat zal zijn.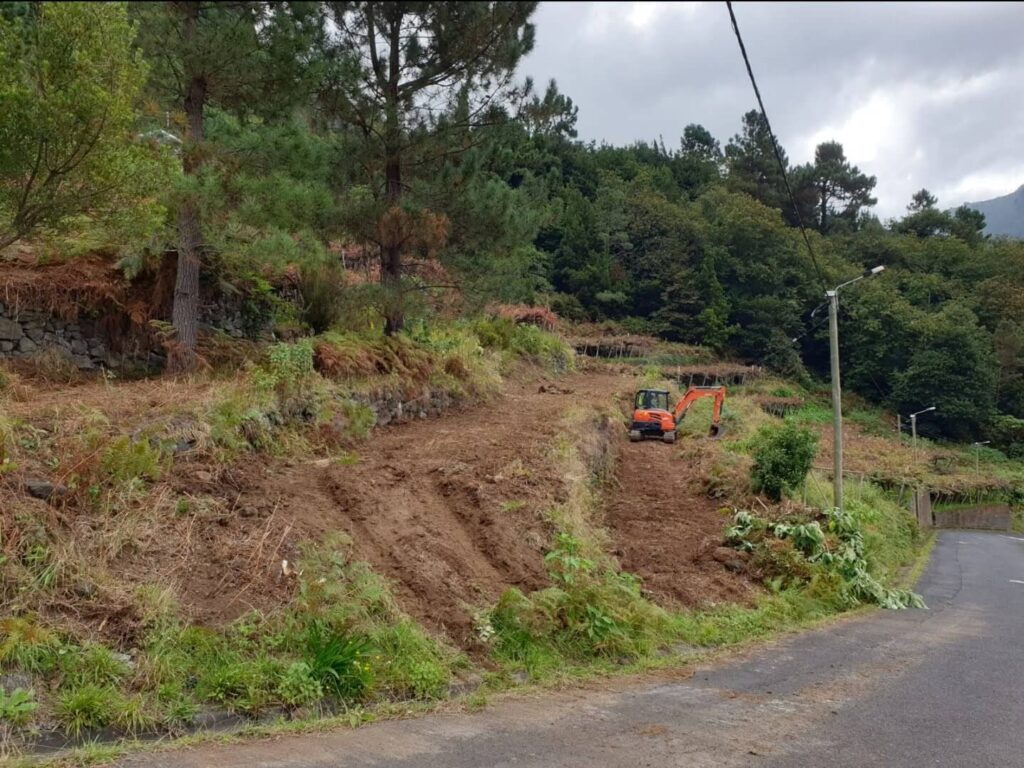 Verder ben ik in de tussentijd ook nog binnen São Vicente verhuisd.
Helaas werd het huurhuis verkocht, waar ik tot nu heb gewoond. Vandaar dat ik helaas ergens anders naartoe moest. Dit was wel van begin af aan duidelijk, maar toch had ik gehoopt, dat ik tot het einde van het bouwproject hier had kunnen blijven.
Een verhuizing is altijd met stress verbonden en het was ook mijn eerste verhuizing in al die jaren zonder Bas, maar het was ook emotioneel een uitdaging omdat in dit huis nog al de herinneringen aan de laatste tijd met Bas zaten.
Maar misschien was het ook goed dat ik gedwongen werd om de spullen van Bas te controleren en gedeeltelijk op te ruimen.
Los van de emotionele kant van de verhuizing, is mijn nieuw stekkie wel super mooi. Ik woon nu in het huis van Gilberto (dus mijn oude en nieuwe huurbaas), dat eigenlijk het tweede door hem te verhuren vakantiehuis zou worden. Ik heb geluk gehad en ben Gilberto erg dankbaar dat ik in de tussentijd dit prachtig net gebouwde huis mag huren. Hier zal ik blijven totdat ik naar mijn eigen huis kan verhuizen.
En hier kom ik weer op mijn ouders en goede timing terug…. Gelukkig waren mijn ouders op het moment van de verhuizing hier op Madeira en hebben mij goed kunnen helpen en ondersteunen.
Het nieuwe huurhuis ligt prachtig en is ook nog op loopafstand van het bouwproject. Het ligt aan het einde van een kleine, doodlopende weg, helemaal boven op de berg. Hier kan ik heerlijk van de rust en de natuur genieten. Terwijl ik in het begin erg moest wennen. Het is hier pikkedonker 's nachts en je hoort gewoon helemaal niets, maar inmiddels geniet ik juist daar heel erg van. Het is mijn oase van rust.
Het wordt al bijna tijd om aan Kerst te denken en ik heb lang erover moeten denken, wat ik met die dagen ga doen. Ik heb nu besloten om met de feestdagen hier op het eiland te blijven. Het wordt de eerste Kerst zonder Bas en met zekerheid niet makkelijk, maar ik weet nú zeker al dat mijn vrienden hier het me zo makkelijk mogelijk gaan maken. Er is zelfs al een Kerstviering met Glühwein en Printen gepland. Dus dat zal wel goed komen.
Zonnige herfstgroeten vanuit Madeira en ik zal er mijn best voor gaan doen om de volgende blog niet zo lang op zich te laten wachten.
Até á próxima,
Janine